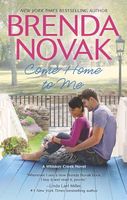 Series:
Whiskey Creek
(Book 6)
Home is where her heart is
When Presley Christensen returns to Whiskey Creek with her little boy after two years away, she has completely changed her life. She's made peace with her past and overcome the negative behavior that resulted from her difficult childhood. Now she's back in the small town that was the closest thing to "home" she ever knew--the town where she can be with the sister who's her only family.
There's just one catch. Aaron Amos still lives in Whiskey Creek, at least until he moves to Placerville to open a branch of the Amos brothers' auto body shop. And no matter how hard she's tried, Presley hasn't been able to get over him. Seeing him again makes the longing so much worse. But she hopes she can get through the next few months, because she can't fall back into his arms...or his bed. She's come too far to backslide now. And there's a secret she's been guarding--a secret she'll do anything to protect.
My least favorite of the series so far, which is too bad because I was really looking forward to it. Presley had been a hot mess when she left town two years ago. She had been into parties, drugs and sex, and Aaron had been her cohort of choice. She had been crazy in love with him, even though he didn't feel the same way about her, and made a real pest of herself at times. When he turned her away at a time she really needed him, she fled in despair.
Two years later she has come back to Whiskey Creek. She has gotten her act together and has made a good life for herself and her little boy. She has a healthy lifestyle and has started a yoga and massage studio. She's thrilled to have repaired her relationship with her sister. The only drawback is that Aaron is still living in Whiskey Creek, at least for awhile longer. As much as she has tried, she has never stopped loving him.
Aaron never forgot her either. He had tried to find her when she first left, but gave up after awhile. Now that she's back, he'd really like to pick up where they left off, but she's resisting. He can see that she has changed, but he likes the new Presley. He can also see the desire in her eyes, and can feel it when he kisses her, but she won't give him the time of day. He starts to realize that she is serious when she tells him that she's looking for a man who is willing to love her and commit to her and her son, and that's something he's never been able to do.
I wasn't all that upset with her decision not to tell Aaron that Wyatt was his when she first discovered she was pregnant. She was in a bad place emotionally and he had never made a secret of his feelings about love and marriage. She thought she was doing the right thing for herself and the baby. It got a little trickier once she came back to town. Her sister knew the truth, but didn't tell her husband, who was also Aaron's brother. I got very frustrated with her when she would make a big show of telling him that there was nothing between them anymore, but then give in and sleep with him. It was even worse when she started dating another man, a really nice guy, and still couldn't resist Aaron. I also didn't like the way that she was so proud of the way she had changed, but refused to consider that Aaron may have changed too. Even after she came clean about Wyatt she kept telling Aaron that she didn't expect anything of him, even though he made it clear that he wanted to be part of Wyatt's life. She just kept pushing him away.
While Aaron frustrated me at first because he seemed more interested in sleeping with her than anything else, there were still plenty of signs that he had gone through some changes in the last two years. He's not the hard partier that he had been, he's shown a lot of responsibility with the business, and he doesn't seem quite as hotheaded as he had been. It's obvious that he cares a lot more than he wants to admit, especially when she goes out with the other guy. What really made me like him was when he found out about Wyatt. He was angry, but he was also hurt that she had had so little faith in him. I loved seeing him jump into being a father with his whole heart. It was really sweet to see him and his brothers that first day that they had Wyatt all to themselves. He also cared enough about Presley to try to do what she wanted, but also to let her know that he wanted a chance to try to build something with her. His move away was hard on both of them, but it did serve to open up their eyes to what they really felt. I really liked his go big moment at the end.
The part I absolutely hated about the book, that took it from a four to a three (and almost lower) was the storyline involving Cheyenne and Dylan. I understood the stress that their inability to conceive was putting on their marriage, but the actions that Cheyenne took were so far beyond wrong. How she could justify that kind of deception against the man she says she loves is inconceivable, and to involve his brother is even worse. I kept waiting for something bad to happen, but it was left completely hanging. I really hate the idea that they could get away with it.