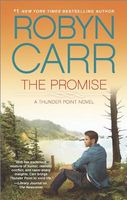 Series:
Thunder Point
(Book 5)
Scott Grant has a bustling family practice in the small Oregon community of Thunder Point. The town and its people have embraced the widowed doctor and father of two, his children are thriving, and Scott knows it's time to move on from his loss. But as the town's only doctor, the dating pool is limited. That is, until a stunning physician's assistant applies for a job at his clinic.
Peyton Lacoumette considers herself entirely out of the dating scene. She's already been burned by a man with kids, and she's come to Thunder Point determined not to repeat past mistakes. When Scott offers her a job, at a much lower salary than she's used to, Peyton is surprisingly eager to accept…at least for now. She's willing to stay for a three-month trial period while she explores other options.
Scott and Peyton know the arrangement is temporary -- it isn't enough time to build a real relationship, never mind anything with lasting commitment. But love can blossom faster than you think when the timing is right, and this short visit just might hold the promise of forever.
I loved this story - I have been waiting for Scott to get his his own happy ever after. I love Robyn Carr's Virgin River, and have found that Thunder Point is just as great a place to visit. The people are friendly and welcoming and watch out for each other. That is just what Scott had been looking for when he moved to Thunder Point.
Scott's wife had died four years earlier when his daughter was born. For awhile he was just barely making it from day to day. Then he realized that he needed to make some changes. There were a couple things driving his decision. First, his mother and mother-in-law were driving him crazy. They were so competitive for the children's attention that he had no peace. Second, he wanted to be able to spend more time with his kids, which meant that a busy city practice wasn't a good fit. When he discovered that Thunder Point needed a doctor for its clinic, it was a perfect fit. The only thing it didn't really have was much scope for dating.
Peyton was looking for a temporary job while she decides what to do with her future. She is a physician's assistant who had just ended a three year relationship with a man who was a doctor and her boss. She was in love with him, but as much as she had tried to connect with his children, it just didn't happen. Then she found out he was also cheating on her. She sees Scott's ad for a PA and decides to check it out. It's like nothing she's ever done before, but she's willing to give it a try.
I loved how quickly Peyton became an important part of the town. She discovers that she has missed the small town atmosphere like the one she grew up in, now that she's been away from it for awhile. The values are much more like what she was used to, and the further away she was from her former relationship, the more she realized how wrong it had been for her. She's still not planning to get involved with Scott, not matter how appealing she finds him. But he and his family are so different that she quickly finds herself getting attached.
I liked the way that she and Scott became friends first. Scott was attracted to her from the first, but a rather funny misunderstanding made him think she was out of reach. Once that was straightened out, I enjoyed seeing them get to know each other and learn just how much they had in common. That's not to say they didn't each have their issues. Peyton was still very wary of risking her heart with a man who had children. She also has a very caring heart that makes it hard to refuse to help someone in need, and this causes some trouble when one of her ex's kids comes to her with a crisis. Scott has some problems believing that Peyton would be willing to pass up a much better job in order to stay in Thunder Point. He also has a little bit of an inferiority complex when he tries to compare himself to her ex.
I loved seeing the two of them keep getting closer, but got a bit frustrated when neither seemed to actually be talking to the other. A little bit better communication would have gone a long way toward reducing their problems. Scott makes some pretty big assumptions that get him into trouble.
I loved the secondary characters. Peyton's family was especially great. It was easy to see that her values came from her big family and the way that they believed in hard work and accountability. It was also fun to see Scott and his kids get swept up in the whole group when everyone came together for the harvest. I also enjoyed seeing more of other residents of Thunder Point. No big info dumps, just the day to day exposure to others, such as Cooper and Sarah, who have their baby, and Gina and Mac and the job change he is going through. That also brings the return of a character who will likely have his own book soon. Gina's mom Carrie has a crisis that has help coming from an unexpected direction. I'm looking forward to seeing what might come from that wrinkle.