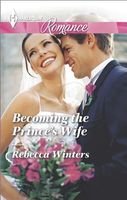 Series:
Princes of Europe
(Book 2)
A forbidden love…with a prince!
Attorney Carolena Baretti keeps her cards close to her chest. But when a chance encounter with the handsome prince ignites a fiery attraction, Carolena finds that he may just be the one man she can trust….
Crown prince Valentino finds himself increasingly distracted from his duty by commoner Carolena. But Valentino is playing with fire. To be with Carolena he would have to sacrifice everything -- including his right to the throne….
Sweet story with both Carolena and Valentino having obstacles to overcome. They are introduced when she joins her friend Abby and Prince Vincenzo for a combination vacation and business meeting. She and Val are immediately attracted to each other but a relationship is impossible. Val is engaged to a princess in an arranged marriage required for him to become king. Carolena has never recovered from the guilt that she feels over her fiance's death and has vowed never to marry.
I really liked Val. Even though he has a reputation as a playboy prince there is a lot more to him. He is a volcanologist who has a real passion for his work. He wants to be able to protect his people in the event of an eruption. When he meets Carolena he is bowled over by her beauty, and then entranced by her intelligence and enthusiasm. He knows he should stay away from her but he can't. The more time he spends with her the more he realizes his unwillingness to enter a loveless marriage. He has to convince Carolena that marriage between them is possible. I loved his determination to win her over. He showed sensitivity to her fears, but he wasn't going to let them get in the way of their future. I loved seeing him slowly break down her walls. He seemed to know when to push and when to back off.
Carolena is a beautiful and intelligent woman but she has closed herself off from emotional entanglements. She lost her fiance in an accident that she feels responsible for. She doesn't want to get involved with someone and risk that kind of loss again. Her immediate attraction to Val is so strong that it scares her. The more she gets to know him, the better she likes him. I loved her enthusiasm for his work and the way she made her admiration clear. She also sees how much he is loved and respected as the crown prince. She can't stand the idea of him giving it all up for her, certain that he would resent it eventually. She keeps trying to push him away but he won't go. Carolena has to learn to separate the man from the prince in order to see what they can have together.
I loved seeing the two of them together. Val was a real romantic and I really liked all the special touches of their time together. Carolena may have been resisting the idea of loving Val, but it was obvious that she did. Her trip to the volcano with him was just one way that showed her feelings. There was a really interesting twist to the problem of Val's engagement and I enjoyed seeing his reaction to it. I liked seeing Carolena finally take steps to deal with her issues and loved the confidence it gave her.