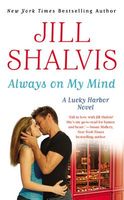 Series:
Lucky Harbor
(Book 8)
THERE'S NOTHING LIKE THE REAL THING
After dropping out of pastry school and messing up her big break on a reality cooking show, Leah Sullivan needs to accomplish something in her life. But when she returns home to Lucky Harbor, she finds herself distracted by her best friend, Jack Harper. In an effort to cheer up Jack's ailing mother, Dee, Leah tells a little fib - that she and Jack are more than just friends. Soon pretending to be hot-and-heavy with this hunky firefighter feels too real to handle . . .
No-strings attachments suit Jack just fine - perfect for keeping the risk of heartbreak away. But as Jack and Leah break every one of their "just friends" rules, he longs to turn their pretend relationship into something permanent. Do best friends know too much about each other to risk falling in love? Or will Jack and Leah discover something new about each other in a little town called Lucky Harbor?
Good friends to lovers story. Jack and Leah have been friends for a long time. They grew up as neighbors, always there for each other. Jack was Leah's refuge when her father's abuse got to be too much. Meanwhile, Leah was there for Jack when his father died doing his job as a firefighter.
Now Leah is back in Lucky Harbor to help out her grandmother at her bakery while she tries to decide what to do next. She had left culinary school in the last semester in order to participate in a baking competition show. She can't talk about how the show turned out, but you definitely get the feeling it didn't end well for her. With the whole town watching the show, Leah is determined to leave again before the final episode airs, but things aren't as easy as she thought they'd be. Her friendship with Jack is going strong again, but there's something else going on also. Then she tells Jack's mom. who is fighting cancer, that she and Jack are together in an attempt to give Dee more motivation to get better. And then their pretending gets a little out of hand.
Jack spent his early years idolizing his father and determined to follow in his footsteps. He is now head of his station in the fire department, and living his life the way he wants. He has plenty of time for the ladies, as long as they know he doesn't do commitments. When Leah comes back to town, their friendship picks up right where it left off, until she makes that claim to his mother. He understands why she did it, but it is making his life hell. As much as he tries to keep a lid on their attraction, it's just too strong to deny.
Both Leah and Jack are intensely attracted to the other. Their close friendship over the years has enabled them to see each other just as they are, faults and all. Their love for each other is obvious to everyone else, but Leah and Jack refuse to admit it. Both of them have issues that keep them from believing in a happy future. Leah's father's abuse destroyed her self-esteem. He expected perfection from her and belittled her constantly for not achieving it, telling her if it isn't perfect don't bother doing it. As a result, she has trouble finishing anything she starts. She can't believe that Jack would want more than friendship with someone as screwed up as she is. Jack has spent his adult life avoiding any sort of emotional commitment. He saw what it did to his mom when his father died and is determined that he won't put anyone through that kind of pain. He has also been trying to live up to his father's hero status by following exactly in his footsteps, even though his own interests lie along a slightly different path. When Jack and Leah start their charade they try to keep it all under control, but it's a losing battle.
I loved seeing the two of them dancing around their feelings. Neither wanted to admit to themselves or others that they really weren't pretending to care. Jack is still trying to protect his heart, but he ends up breaking every rule he sets up, getting in deeper with Leah every time. I loved seeing the cool and calm Jack lose it whenever he is with her. Leah has fallen for Jack, but figures she blew her chance already and won't get a second shot at it. It takes her almost too long to realize that love doesn't expect perfection, and that Jack is everything she wants.
Besides the drama of the developing relationship between Leah and Jack, there is plenty going on with the rest of the town. Old lady Lucille is still posting everything that is going on in town on facebook, with Jack and Leah one of her favorite subjects. Jack's mom is battling her cancer, but also coming to realize that she is partly responsible for Jack's issues. In her attempts to fix it she also learns more about herself. One of the best characters is Jack's Great Dane Kevin and his antics. He adds some great comic relief with his eating habits and other things he does. There is also an issue with a series of suspicious fires that draws Jack's attention over and over. I loved the way that he tried to figure out who it was. There were a couple of very interesting twists before that mystery was solved.