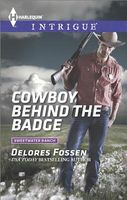 Series:
Sweetwater Ranch
(Book 2)
The last thing Texas Ranger Tucker McKinnon expects to find in his pantry is two sleeping newborns. But it's the woman who spirited the infants to his ranch who stirs the lawman's blood, along with haunting memories. Once, Tucker and Laine Braddock were inseparable…until murder divided their families. Now, with a killer on Laine's trail, Tucker has never felt more powerless. Or been more determined. Desperate to keep her and her innocent charges safe, Tucker uncovers some shocking truths. Including the feelings they still share -- and the desire they're finding impossible to resist.
Second book in the series was just as good as the first. The last thing Tucker needed at the end of a rough day was the sound of an intruder in his house. He didn't expect to see Laine Braddock and two newborns hiding from a pair of killers. He and Laine had been good friends until her father was murdered and his mother accused of doing it. Their most recent encounter was while they were both working on a baby farm case and Tucker managed to get her removed from it. What he didn't know was that she continued working on her own, which has gotten her in the mess she's in now.
Tucker would really like to just get the kids to social services and Laine out of his house, but when the killers track her to his house he steps up to protect them. It doesn't take long for them both to realize that there's more going on than just her rescue of a couple babies. Every time they think they know who is behind the attacks, another person becomes a suspect. Tucker has an overdeveloped sense of responsibility and every attack that happens makes him feel like he's letting Laine down. The longer he spends with them, the more invested he becomes in their safety and the more Laine is beginning to mean to him. The attraction between them is strong and even though they both consider it a bad idea, neither is having much luck in resisting it. Tucker has always been a bit of a player, not interested in commitment or a family of his own, but being around Laine and the babies is making him rethink his plans.
When Laine found herself in the crosshairs of killers, Tucker is the first one she thought of to protect her and the babies. In spite of their families' history she's always known she could trust him. Once she gets past his initial reluctance, his determination makes her feel better about their chances. What she doesn't expect is the heat that flares between them whenever they get close. With the bad blood between their families, getting involved with Tucker is a really bad idea, but she just can't resist dreaming of the possibilities. I loved Laine's determination to protect the babies, and the strength she showed as she and Tucker fought back against those who were intent on harming them. The love she had for the babies was incredible and I really liked her plans for their future. I also liked seeing the way that she saw the love that Tucker was capable of, even before he realized it himself.
The suspense itself was nonstop. From the very beginning when Laine showed up at Tucker's, we never know what direction the threat will be coming from. There were so many possible suspects that it was sometimes hard to tell who was at the top of the list at any given time. Just when I thought I had it figured out, someone else would move up the chain. The final showdown was really intense with Laine in immediate danger. The action was truly edge-of-the-seat until the end.
The family dynamics are still an important part of the story. Tucker's sister Rayenne is as antagonistic as she was in the first book, but again provides backup when it is needed. With this book we get the addition of Laine, who is the daughter of Jewel's murdered lover. Her mother is not happy to have Laine involved with Tucker, and at least at the beginning, Tucker's family isn't any happier. I did like the way that his family's attitude changed as the book went on. I loved Tucker's dad's comment at the end when it became obvious that Laine and Tucker were going to stay together.