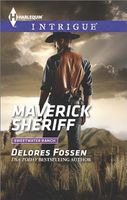 Series:
Sweetwater Ranch
(Book 1)
Saving a little boy's life reopens painful wounds for Texas sheriff Cooper McKinnon. This could be his son, whose loss has haunted him for two years. But Cooper has a formidable adversary in Jessa Wells. She's the adoptive mother -- and she'll do anything to hold on to Liam.
It's cruel justice that the man who shares Liam's rare blood type has an unsolved murder in his own family. And the danger's far from over. Fighting her desire for Cooper, Jessa has no choice but to join forces with the maverick cowboy. Jessa knows working together is their best shot at keeping the child safe. But it's the possibility of a future alone that breaks Jessa's heart.
Good book and excellent setup for the series. It starts out with Cooper rushing to the hospital to be a blood donor for a little boy with the same rare blood type he has. It doesn't matter that the boy's mother is his adversary in their professional lives. Jessa is the new ADA who is reopening an unsolved murder case in which his estranged mother is the prime suspect. Cooper doesn't care so much about the effect on his mother, but he does care about what it might do to his father and two brothers.
Getting a good look at Jessa's son Liam has Cooper seeing ghosts. The little boy could be the son he lost in a flood two years ago, whose body was never found. Before they can deal with that possibility they need to find out who keeps trying to kidnap or kill Liam and why they are doing it. The deeper they dig the more questions they have. They also discover that the sparks of their professional lives have kindled sparks of a different kind in their personal lives.
Cooper is still grieving for his lost family, but the thought that Liam could be his provides a light in the darkness. The attraction he's feeling for Jessa is an unwelcome development, given their positions on the prosecution of his mother. As much as he tries to resist, the intensity of their situation has their emotions running high and he starts to see her as more than just his adversary. When Jessa is put in a dangerous situation Cooper realizes he wants more than just to protect his son's new mother.
Jessa is wary of getting involved with the forceful sheriff. She survived an abusive marriage that has her cautious about getting too close to another man. Discovering that her son may also be Cooper's missing son has her terrified that she could lose him. That fear is always at the back of her mind as she and Cooper race to discover who is behind the attempts on their lives. She shows an incredible amount of strength and determination as she refuses to be left behind in the investigation. Spending all that time with Cooper shows her that he's a man she can trust her life and her heart to.
There are several storylines going in this book. The one that it seems will run the course of the series is the accusation of murder against Cooper's mother. She has come back to Sweetwater Springs to face those charges. Cooper, his two brothers and their father are not happy to see her. She abandoned them many years earlier, taking her twin daughters with her. With her return she has brought those daughters and her stepson, who are determined to prove her innocent. The twin daughters of Rosalie have been kidnapped and she suspects ties to the adoption ring.
The main one is that of Liam's identity and who is behind the attempts on his life. That mystery is solved by the end of the book, with plenty of twists and turns to keep us guessing as to who was really behind it. It all ties in to what appears to be a ring involving illegal adoptions.
There is an underlying theme of the importance of family. Cooper and his brothers and father are all united in their determination to protect their family. Jewel's return threatens their peace. I liked the obvious love and respect among the brothers and their father and how they are ready to back up Cooper when he needs it. The two sisters are very different personalities and definitely have a negative attitude toward the guys. Their stepbrother is still something of an enigma, but I'm sure we'll get to know him more. I did like the way that they stepped up in support during the trouble. I'll be interested in learning more about them.