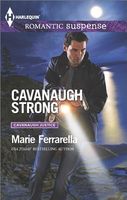 Series:
Cavanaugh Justice
(Book 28)
Aurora's finest are back in action!
Why are too many healthy seniors dying in nursing homes? Vice detective Noelle O'Banyon can't let the mystery go. And though she has no business working a homicide case, the love-shy single mom draws partner Duncan Cavanaugh into her rogue investigation. He's a notorious player she thoroughly disdains -- and the feeling's mutual.
Duncan considers Noelle too straight-laced for his taste. But as they uncover the shocking scandal behind the mysterious deaths, the crime-fighting pair become closer -- and passionately in sync. Now, before a killer stops their bliss, can he and Noelle prevent the next murder in Aurora?
Good story. Noelle and Duncan have been partners for six months and have a good working relationship and friendship. Noelle gives him a hard time about his player/bachelor status as he seldom dates a woman for long. Duncan gives Noelle grief about putting more fun in her life. When she comes to work one day puzzling over the odd deaths of two of her grandmother's friends Duncan encourages her to check into it. It isn't long before they suspect an insurance fraud ring that has escalated into murder for that money.
I enjoyed the developing relationship between Noelle and Duncan. Noelle avoids anything that could look like romance. She has had two fiances, both of whom died before they could marry. She feels that she can't risk another relationship, for fear of something happening to that man. She is attracted to Duncan but fights it for a long time. It was fun seeing her shoot down his flirtatious advances but the heat was still there. She didn't really know what to make of his repeated assurances that as her partner he was there for her on or off the job. I really enjoyed the part where he took Noelle and her family to his brother's wedding and how she got to know more of what kind of person he was.
Duncan was pretty cute. As a Cavanaugh bachelor, you know he has Cupid's target on his back, but he's sure that he can resist any temptation to settle down. This is why he dates so many different women. But there's something about Noelle that has kept him intrigued ever since they started working together. I really liked the way his Cavanaugh values had him showing her that he was her backup in all things. I loved his confusion over his growing feelings and how he finally decided to stop fighting it. I was a bit disappointed in him at the end, as there seemed to be some important things missing from his proposal.
The mystery itself was good and entirely believable. I really enjoyed seeing the way that Noelle pursued her suspicions. Her surprise at being made lead on the case was true to her personality, as was the boost in confidence it gave her. I liked the way she and Duncan worked together and how their individual strengths combined to make them a great team. The suspense was mainly mental as they worked to find the truth before another senior died. There wasn't much in the way of intense action, even at the final confrontation.
The secondary characters were wonderful, my favorite being Noelle's grandmother Lucy. She was a feisty lady who resisted being thought of as a grandmother as that would make her feel old. She has a really sharp mind and a wicked sense of humor. She has some really funny moments with Duncan. I also enjoyed seeing her with Duncan's patriarch Seamus at the wedding. Of course, being a Cavanaugh Justice book, other members of the law enforcement family pop up here and there. It's always fun to see how they are able to support each other in their investigations.