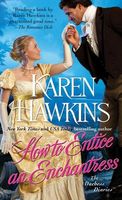 Series:
Duchess Diaries
(Book 3)
The Duchess is doing it again! Matchmaking, that is.
Scarred in the terrible accident that took his wife, gruff Lord Kirk has hidden himself from Society. When he meets his neighbor, Dahlia Balfour -- a young beauty who shares his love for poetry and books -- he realizes she is the one woman who could make him forget the past. But how can such a recluse attract the eye of an enchantress? Kirk appeals to his godmother, the Duchess of Roxburghe, to help him become the dashing, well-dressed hero of Dahlia's dreams.
Arriving at a house party given by the Duchess, Dahlia is unprepared for the change in her neighbor. Suddenly, she is seeing him in a whole new light. When he captures her lips with an ardent kiss, she realizes he could be her romantic hero, but then a jealous rival twists an inadvertent comment she makes. Now Dahlia must persuade Kirk that she's not just a pretty girl feeling pity, but a passionate woman who sees past painful scars into the soul of the man she's come to love.
I really enjoyed this Beauty and the Beast story. Kirk and Dahlia have been neighbors for a long time, but never had much to do with each other. Kirk had married young, then lost his wife in a tragic accident that left him scarred and limping. Avoiding society and its stares has turned him in a grumpy recluse at the ripe old age of 28. Dahlia is the youngest in her family. She has seen both her sisters marry for love and wants the same kind of passionate love for herself. She becomes good friends with Kirk as they bond over their love of books, and they discover that they have much in common. When Kirk decides that he and Dahlia would suit he makes a terrible mess of his proposal, driving her away. Things are further complicated by a badly handled financial transaction between Kirk and her father.
I liked Kirk. He has a good heart, he just doesn't know what to do with it. He feels that he had his "grand passion" with his wife, and all that love stuff is for the young and foolish. He's far more interested in finding someone he is compatible with, and feels that Dahlia is perfect for him. I loved his thoughts about how much he's missed her since their fallout, that his days have become boring, and so on. He doesn't seem to realize that he's already in love with her, that it's more than just compatibility. So he goes to the duchess to ask for her help. He's not happy about the changes that she insists he make, from learning to dress well to learning how to behave like a proper gentleman instead of a beast, but he's willing to try if it will gain him another chance with Dahlia. Of course, it's just surface polish and Kirk really hasn't changed much at all. He struggles so hard to be what Dahlia wants, but is constantly sticking his foot in his mouth. There are so many times when things look like they are going well and then he says or does something that ruins it. I loved his determination and the efforts that he went to, even if it took him a long time to realize the emotion behind it.
Dahlia is still young enough to have very definite opinions on what love and romance entail. She has enjoyed her growing friendship with Kirk and was just beginning to feel like there might be something more to it when he made that horrible proposal, followed by the misunderstanding over her father's loan. She felt betrayed and hurt by some of the things he said. She accepts her godmother's invitation, determined to spend the house party finding that grand passion she has been dreaming of. She is dismayed by Kirk's presence, but also somewhat intrigued by how changed he appears to be. An early encounter turns steamy, but then ends badly, reinforcing her feeling that they just aren't meant to be together. Though Dahlia is still furious with him, she still has feelings for him, and is angered by the way some other guests treat him. I loved this evidence of her feelings, even though she has yet to admit them. I enjoyed the actions she took, even though she later realizes that he's not going to be happy about it. Their encounters have a tendency to be all over the place emotionally, but eventually Dahlia does realize that she loves Kirk. Unfortunately, she still has the same views on love and romance, and feels that because of his refusal to believe in them, that he will never have the same feelings for him. It isn't until a conversation with another guest shows her that she may be somewhat unrealistic that she realizes maybe he really does care.
The efforts of the duchess and Lady Charlotte were definitely needed in this book. I really liked seeing the way that she had to really work at getting Kirk to accept her guidance. He was not going to make things easy for them. She also had a pretty good grasp on the methods she needed to get the outcome she wanted. The way she kept them apart at one point was hysterical, and you could just feel the waves of frustration coming from Kirk. I also enjoyed the character of Kirk's valet. He didn't have an easy task of providing the surface polish, as Kirk fought it all the way. I especially liked the way his matter of fact treatment of Kirk's injuries and his offer to help him overcome them made such a difference to Kirk's outlook.