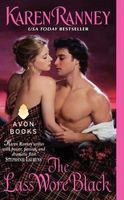 Series:
Scottish Sisters
(Book 2)
Catriona Cameron was once famed for her seductive beauty and charm. Now she saw no one, hiding from the world . . . and no one dared break through her self-imposed exile.
No one, that is, until Mark Thorburn burst into her home, and Catriona's darkened world began to have color again. Thorburn, secretly the heir to an Earldom, claimed he was a footman. But Catriona didn't care about the scandal their passion could cause . . . for his very touch sparked her back to a life of sensuality, one she thought she'd never have again.
Little does she know that Mark is part of a masquerade. One that will end when they become the target of a madman set on revenge. Mark realizes he will have to do more than win her love . . . he will have to save her life as well.
This is the story of Catriona, Jean's sister from
A Scandalous Scot
. In that book we saw her as selfish, lazy, and with the morals of an alley cat. In this book she has suffered a horrible injury that has left her badly scarred and hiding from the world. She is quite bitter, feeling that if she doesn't have her beauty she has nothing at all to offer the world or a man. She's pretty much given up on life, though the aunt she lives with refuses to give up on her.
Mark is a doctor who has become friends with Catriona's aunt through their work with the poor of Edinburgh. He is the wealthy grandson of an earl, but medicine is his life. He also remembers Catriona from years earlier when he used to work with her father who had also been a doctor. He listens to Aunt Dina's fears about Caitriona and agrees to examine her and see if he can help. When he goes to her room to do so, she mistakes him for a footman and is incredibly rude to him. He sees that approaching her as a doctor isn't going to work, and goes along with her misconception. He tells her that he has been assigned by her aunt to make sure she eats and won't be leaving the room until she does so. He doesn't understand why he's so drawn to her and determined to help her, but he does succeed at irritating her into compliance.
Meanwhile Catriona is attracted to him, but doesn't see being able to do anything about it because of her scarring. Her arguments with him are beating back the feelings of darkness that she had been experiencing. She goes from wanting him gone, to missing him when he isn't there, though she won't admit that. He has a tremendous influence on her because he pretty much forces her to start living her life again. He wants her to overcome her focus on her looks and see that she can have true value in her life. She doesn't miraculously turn into a kind and loving woman, but she develops an empathy for others that shows a basic change in her character. Meanwhile, Mark's growing fascination with her has him focusing on something other than just his work. He begins to see that she brings some balance to his life. He realizes pretty quickly that his deception probably wasn't the best thing to do, but doesn't know how to fix it. When the truth comes out, he's definitely in trouble, but at least they've gotten to know each other a little. He does take the opportunity to drag her out of her limited world to show her that she's not the only one who has it bad.
Catriona is in danger from an ex-lover who is furious at her rejection of him. He wants revenge and is behind the accident that caused her injuries, only he wanted her dead not injured. He is determined to finish what he started and we see the lengths to which he will go. His actions end up drawing Mark and Catriona closer together. The final confrontation was good and actually pretty realistic.