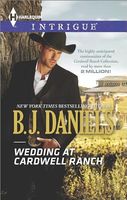 Series:
Cardwell Cousins
(Book 2)
Cardwell Ranch
(Book 6)
Jackson Cardwell won't stop until she is safe.
In Montana for his brother's nuptials, Jackson Cardwell isn't looking to be anybody's hero. But the Texas single father knows a beautiful lady in distress when he meets her. Someone's hell-bent on making Allie Taylor think she's losing her mind. Jackson's determined to unmask the perp…and guard the widowed wedding planner and her little girl with his life.
Allie has no idea who wants to harm her and take her daughter away. The truth is even more shocking. For Allie's past has stalked her to Cardwell Ranch. And not even the sexy cowboy who awakens irresistible passion may be able to save her from a killer with a chilling agenda.
Excellent book with terrific romance and a mystery that kept me guessing. Jackson and his son have come to Montana for his brother's wedding. One of the first people he meets is Allie, the wedding planner, who is looking very scared. Being the gentleman that he is, he wants to help her, but is also wary of getting involved.
I loved Jackson. He is a terrific father to his five year old son, if perhaps a little overprotective. He was badly burned by his ex-wife, who turned out to be an extremely selfish piece of work. So he is now pretty cynical about women, and hasn't made up his mind whether his brother is in love or deluded. Fortunately he is won over by Lily pretty quickly, because all his attention ends up on Allie. He is drawn to her beauty immediately, but it's his protective instincts that have him wanting to help her. It's obvious to him that someone has it in for her and he wants to help her figure out who it is. He also knows he only has a few days before he's due to go back to Texas. I loved the fact that he was so clear sighted about what was happening to her. He knew she wasn't imagining things, in spite of what other people tried to tell him. I loved the way that he got his brothers involved in helping him, even though they weren't as sure as he was about what was happening. It didn't take him too long to realize that he was feeling more than protective, but he tried fighting the feelings. He's still dealing with the problems caused by his ex-wife and doesn't feel that he's prepared for a new relationship. Of course, the heart doesn't listen to the head, and it's his heart that has him showing up just in time to save her.
Allie is a widowed mother of a little girl. Her marriage had not been a happy one and she had been planning to leave her husband right before he disappeared. Now she is left to deal with a mother-in-law who blames her and a brother-in-law whose help and protectiveness is starting to feel smothering. Allie has no idea what is going on and fears that she is losing her mind. Since her husband's disappearance and presumed death eight months earlier, she has been having strange things happen to her. She smells his aftershave in her house, his clothing appears and disappears, she has bouts of apparent forgetfulness and strange behavior that she doesn't remember. When her latest meltdown is witnessed by Jackson, and he confirms that he saw what she did, she begins to realize that maybe she isn't going nuts after all. Jackson's support means a lot to her, Having him believe in her makes her feel stronger, and it isn't long before her renewed confidence also has her noticing her growing feelings for him. Having been married to a man whose true nature didn't appear until after they were married, being able to trust Jackson is a huge step for her.
The mystery of what happened to Allie's husband and who is doing these things to her and why was very well done. The things that were happening to her were definitely creepy and I could really understand why she was questioning her sanity. There were so many possibilities on who could be behind it that each time something happened I thought of a different person. The in-laws were definitely at the top of my list, but her sister and best friend were also suspect. I have to admit that the identity of the killer was a surprise.