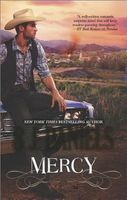 Series:
Beartooth Montana
(Book 5)
The hunt for a killer leads to a battle between justice and desire
For U.S. marshal Rourke Kincaid, there's the law…and then there's his law. When the two don't agree, he always trusts his instincts. A killing spree has gripped the Northwest, showing a strange connection that only he sees, and now the old rules of justice no longer apply. Forced to turn rogue, he goes deep undercover to track his mysterious female suspect to a quiet, unassuming café in the wild, isolated mountains of Beartooth, Montana.
But encountering Callie Westfield complicates his mission in ways he never expected. As suspicious as she seems, her fragile beauty and sexy charm get to Rourke. Then the gory crimes begin anew. With his heart suddenly at war with his instincts, he has only two options. Either turn Callie over to the law, or put everything -- including his badge and his life -- on the line to protect her.
Excellent book that kept me riveted from beginning to end. It starts out with Rourke fascinated by a cold case he has been working on. With a closer look he sees a connection to two other cases, but no one else believes there's anything to it. So Rourke takes a couple weeks vacation and pursues his suspicions on his own.
Rourke has never had any trouble trusting his instincts, and those are telling him there's more to Callie Westfield than he first suspected. His initial thought had been that she was somehow involved in the murders, but once he met her he had his doubts. There's something about her that tells him she isn't capable of those gruesome murders, but he also senses that she has secrets that put her in danger. I loved seeing the battle that Rourke fought with himself. His brain was telling him that Callie had motive and opportunity, but his heart says that she is a victim also. He feels guilty for lying to her about who he is, but he also needs to be sure that she isn't the serial killer herself.
Callie hasn't stayed in one place for very long, but Beartooth has given her a sense of security she hasn't felt in years. For the first time in two years she hasn't suffered from the headaches that were the precursors to visions of murder, and she hopes that they are gone for good. Then a good looking cowboy comes to town and the trouble starts up again. Somehow she knows that he is connected in some way. She's suspicious of him because she can't read him the way she does others, but she's also attracted to him. When she starts seeing more murders Callie has to decide if she can trust him with her secrets.
This book was filled with twists and turns. Rourke notices Callie in three crime scene pictures and goes to his former partner for help in finding out who she is. He discovers that Laura has a connection to one of the cases. She is initially reluctant to help Rourke, but once she does she has a lot to say. As a criminal profiler she has a theory and works hard to convince Rourke that she's right. I have to say that I didn't like Laura from the very beginning. She is in love with Rourke, thought he's never had those feelings for her. I thought she was far too focused on Callie being the killer and didn't leave any room for the idea of it being someone else. The more information that came to light about Callie, the stranger things get. I did figure out who it was, but there were enough twists that I wasn't sure of the exact details. It ended up being even creepier than I expected.