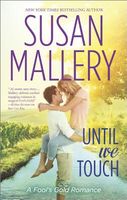 Series:
Fool's Gold
(Book 17)
After a family tragedy, former football hero Jack McGarry keeps the world at arm's length -- a challenge now that his PR firm has moved to neighborly Fool's Gold, California.
Larissa Owens knows where she stands -- Jack sees her as just another one of the guys. No matter what her heart wishes, Jack's her boss, not her boyfriend. But then Larissa's big secret is revealed…by her mother!
When Jack discovers the truth about Larissa's feelings, her touch suddenly becomes tantalizing, and he's not sure he wants to resist. But if he gives in to desire, heartache is sure to follow. Friendship or true love -- will Jack go for the ultimate play?
This is one of my favorites of the Fool's Gold series. The emotion, especially in the last few chapters, had me reaching for the tissues multiple times. I have been looking forward to reading Jack and Larissa's story the more I saw of them in the previous books. They are best friends and coworkers. Jack is one of the owners of the PR firm, Larissa is his assistant and also the company masseuse. Larissa is heavily into charity work, helping sick kids and seemingly addicted to rescuing animals of all types. Jack helps her out by writing the checks that help her do it and occasionally doing other hands on events. Everything is going swimmingly until Larissa's mother comes to town. She's determined to get Larissa married off and producing kids and she doesn't see that happening as long as she's working for Jack. She asks Jack to fire her because that's the only way Larrissa would leave Jack who she's in love with. This starts a chain of events that is both funny and heartbreaking.
Larisa is horrified by what her mother has done. She insists that she is not in love with Jack, that they are just friends. But the seed has been planted, and she starts looking at him differently. It doesn't take long for her to realize mom is right. But she knows that Jack is a bad bet for a relationship, so if she's going to get the life she wants she's going to have to fall out of love with him. She figures the best way to do that is to have an affair with him and get him out of her system. Needless to say it doesn't go as planned and she ends up falling deeper for him.
Jack is flabbergasted and freaked out. He's never thought of Larissa that way before and doesn't want to now, but suddenly he can't help it. He doesn't want her to be in love with him. He doesn't do emotional commitments, preferring to date a woman for a little while, then move on. He has kept everyone at an emotional distance for years to protect his heart. He lost his twin brother to heart disease when he was seventeen, and his parents when, unable to cope with their grief, went off to help in Africa leaving him alone and hurting. He figures if he doesn't let himself care, he'll be safe. His friendship with Larissa has always been safe. She understands him and doesn't ask for more than he can give. Now he's looking at her as a woman too. He tries really hard to resist the attraction, but that doesn't last. Suddenly there are cracks appearing in his walls.
It's obvious from the beginning that Larissa and Jack are meant for each other. But each of them have their baggage to deal with. Larissa's causes give Jack a chance to be involved without getting too close. Larissa has spent her life feeling guilty because her parents had to get married. Her causes are her way of coping with the guilty feelings. Because she understands Jack so well his need to remain distant from the causes is just something she accepts. But as they get closer she gets him more deeply involved. The biggest thing is the homeless teen she takes under her wing that Jack and the other guys help because of her. I loved the way that Jack dealt with Percy and the way he starts to care. Then the mayor gets Jack onboard with helping the local college start a football team, and he finds people looking to him for more involvement. Suddenly it all gets to be too much for him and he completely freaks out. At this point he withdraws from everything and pushing people away as hard as he can. He really got into some self destruction. I wanted to hit him when he lit into Larissa and Taryn and was so horribly cruel to them. He earned everything he got from Kenny, Sam and Taryn. His misery was well deserved. It took him awhile to see the light, but once he did I was happy to see him suck it up and do the grovelling he needed to do.
As much as Larissa was hurt, I loved the way she deals with everything. It was great to see the support she got from her friends. I loved seeing her take a good look at her life and make the changes she saw as necessary to move on with her life. I was a little frustrated that she kept making excuses for Jack's attitude, but her love for him just wouldn't let her bash him. I'm looking forward to seeing them in later books.
It's always great to see new characters come to Fool's Gold. I thought Percy was a great addition. It showed the good that the camp does, which is what brought him back to town. I also loved the way he was shown as having been trying to live a better life because of the way he was raised. It was great to see Jack and his friends take a real and practical interest in helping him. His maturity really stood out when it came to dealing with Jack and his meltdown and I look forward to seeing more of him in later books.
As always, Mayor Marsha has her eye on the perfect person to advance whatever project she has in mind. As soon as the football thing came up, I had a feeling about what she wanted. The only question was how she was going to get Jack to cooperate. I loved the meetings Jack attended and his confrontations with the athletic director. Hope to see more of this project in future books.