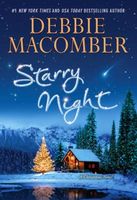 Carrie Slayton, a big-city society-page columnist, longs to write more serious news stories. So her editor hands her a challenge: She can cover any topic she wants, but only if she first scores the paper an interview with Finn Dalton, the notoriously reclusive author.
Living in the remote Alaskan wilderness, Finn has written a megabestselling memoir about surviving in the wild. But he stubbornly declines to speak to anyone in the press, and no one even knows exactly where he lives.
Digging deep into Finn's past, Carrie develops a theory on his whereabouts. It is the holidays, but her career is at stake, so she forsakes her family celebrations and flies out to snowy Alaska. When she finally finds Finn, she discovers a man both more charismatic and more stubborn than she even expected. And soon she is torn between pursuing the story of a lifetime and following her heart.
Sweet story of two people who seem like complete opposites at first, and discover that they're far more alike than they would have guessed. Carrie is a reporter who is tired of writing fluff stories for her city newspaper. When she confronts her boss he offers her the chance to move up if she can first get an interview with the reclusive Finn Dalton. She is determined, and after a great deal of effort heads to Alaska to find him. I loved her ability to think outside the box in her search methods, and her most successful lead came from that. Her determination paid off and she was able to convince Sawyer O'Halloran (
Brides for Brothers
) to help her against his better judgment. Her arrival on Finn's doorstep was not at all what she expected and had its funny moments.
To say that Finn wasn't happy to see her would be putting it mildly. Finn had been raised by his father after his mother left them. His father had become bitter and passed that attitude on to Finn, an attitude reinforced by his own unhappy experience with a woman. Carrie being a reporter just makes it worse. Finn hadn't expected his book to be so popular (I loved his reasons for writing it) and prizes his privacy, so he avoids all media exposure. But Carrie arrives just before a storm hits that strands her with him for a couple days. He starts out really grouchy, but slowly he and Carrie begin to get to know each other. In spite of their obvious differences, they discover that they have many things in common, and things start to change between them. By the time she leaves they've formed a connection that is strengthened by one brief but passionate kiss.
When Carrie returns to Chicago she has to decide whether or not to write the story about the man she's come to care for. She doesn't expect to hear from him again and is stunned when he calls her. This begins a long distance relationship between the two as they continue getting to know each other. Carrie is stunned when he shows up for a visit, and their feelings get stronger. It quickly reaches a point where decisions have to be made, and Finn's insecurities cause him to push Carrie away. After her initial breakdown, Carrie realizes she knows Finn better than he thinks she does. I loved the way that she showed him how much she loved him. The ending was lovely, though I would have liked an epilogue to see how they were doing a little further down the road.
I really liked the little bit of Alaska that was included in the story, and would have enjoyed even more. I liked Debbie Macomber's
Midnight Sons
series partly because of the setting, and had been hoping for similar here.