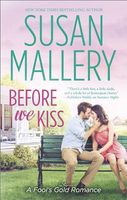 Series:
Fool's Gold
(Book 16)
Former pro-football kicker Sam Ridge has notoriously bad luck with women -- from cheaters to fame chasers. Still, the gorgeous brunette at the bar in Fool's Gold looks harmless -- until she takes him home and he discovers a room devoted to securing a man, for life.
Dellina Hopkins never guessed that storing gowns from a friend's bridal boutique would chase away her first and only fling. After her parents died, she skipped her "wild youth" to raise her sisters. She doesn't want forever from Sam, but one night -- all night -- would've been nice.
His clean getaway gets messy when his firm hires Dellina to plan an event. As long hours lead to late nights, the two succumb to temptation again. Has Sam's luck finally changed? Or this time, will Dellina be the one to run?
Poor Sam just cannot catch a break when it comes to women. As a pro football player he had his pick, and managed to get losers every time. Even the woman he married was just interested in his fame and what he could do for her. When they divorced, she wrote a terrible tell-all book about their marriage. For a man who values his privacy it was a horrible betrayal. He's given up on finding his dream woman and having his own family, convinced that any relationship will go down in flames. When he meets Dellina at a bar on Valentine's Day they really click and he's looking forward to some hot one on one time with her. And he gets it, until he gets up in the night and discovers a room full of wedding gowns and a detailed plan on getting a man to propose. Panicked, he runs and has avoided Dellina ever since.
Dellina has always been the responsible one in her family. She put her life on hold to raise her younger sisters. She doesn't want a permanent relationship and family, as she considers herself as having "been there and done that." Taking Sam home that night was a step toward going after what she does want. She would have liked more time with him, but the memory of what they did have wasn't going to fade any time soon. She has a pretty good attitude about what happened and I really enjoyed the way she tormented him about it later.
Sam has to face Dellina when he needs her professional help planning a weekend long event for his company. Once they clear the air about what happened that night they are able to work well together. It doesn't take long at all for them to figure out that the attraction between them is as strong as ever. But they are determined to keep their relationship professional and not give in to the heat between them. It's a losing battle, but I loved watching them try. One of the things I liked best was watching them get to know each other and become friends.
Dellina quickly comes to understand Sam and his issues with privacy and his personal life. Sam dreads hearing that his parents, who are known for their lectures on sexuality, are coming to town and Dellina thinks that he's exaggerating what they are like. Once they arrives she discovers that they are every bit as outrageous as he claims. Oh the things that came out of his mother's mouth! Her heart is in the right place, and she loves him dearly, but she has no filter. As bad as I felt for Sam and his embarrassment, I have to say it was hysterically funny. I also loved how Dellina had his back, and supported him through the visit. Sam also has to deal with his ex-wife coming to town and wanting to do a sequel to the book she wrote. I loved how that turned out, though Sam did rather screw up with Dellina there.
Dellina loves spending time with Sam. The sparks between them are intense. She is determined to keep things between them light because the thought of opening herself up to love is too scary. She has learned over time that caring comes with a price and she's not willing to pay that price. But Sam works his way into her heart anyway and she finally realizes she wants it all. All she has to do is convince Sam that he can have it too.
As always, I love the town of Fool's Gold and catching up with the characters from previous books. A secondary story here is Dellina's sister Fayrene, whose story was in
Halfway There
. Though she and her boyfriend had agreed to wait four years until they marry, she has changed her mind. Throughout the book she is trying various ways to get Ryan to propose, and both Sam and Dellina try to tell her she's going about it the wrong way. We also have Mayor Marsha going all the way to New Zealand to recruit another person for one of her projects. That woman is seriously spooky with the way she knows things about people. I'd love to know her secret.